#Energy & Relax Yourself#
Wear this bracelet to empower yourself and as a reminder of the best things will come definitely. Even if you are far away from relatives and friends or facing life challenges you still have the inner courage and strength to control your own path. Life is an adventure when you walk dream and achieve your goals this bracelet will remind you to enjoy the journey.

The most advanced magnetic therapy bracelet on the market featuring three powerful neodymium magnets per link (3500 gauss each) - 57 magnets in total! Magnetic therapy is an all-natural non-invasive alternative medicine which has been used for centuries to promote pain relief reduce inflammation improve circulation and restore balance & energy.
Our innovative fold-over clasp makes it easier for you to put-on and take-off the bracelet by simply pressing the buttons together and ensures a strong secure hold. Unlike ordinary mens magnetic bracelets with flimsy clasps you'll never have to worry about the clasp opening unexpectedly or losing your bracelet again! This mens bracelet was crafted with medical-grade titanium which is waterproof and sweat resistant.
Are you experiencing any of the following issues?
Joint Pain carpal tunnel tennis elbow tendonitis repetitive strain injury (RSI)
Pain and inflammation in the knees shoulders arms wrist or hands.
Poor circulation associated with diabetes; cold hands and feet.
Difficulty sleeping anxiety migraine headaches fatigue or stress
Helps Your Body To Help Itself!
Magnetic therapy has been used for years to help reduce inflammation alleviate pain and improve blood circulation.
It is also used to reduce stress & anxiety improve sleep and enhance overall well being.
Please note:
Do not use magnetic therapy if you have a pacemaker defibrillator or any other implanted electro-medical device or if you are pregnant
-MATERIAL & PRODUCTION-
Length Size: 9.1¡å(23cm) adjusting tool (FREE) allows you resize the comfortable the length at home it takes just a few minutes!
With Size: 0.83¡å(2.1cm)
Package: 1 x Bracelet
Material: Medical-grade Titanium
Weight: about 85g
Our jewelries will ensure a very long lasting brilliant finish that is nic free lead free and hypoallergenic.
Equipped with upgrade removal tool with a larger pins easier to adjust and saves time.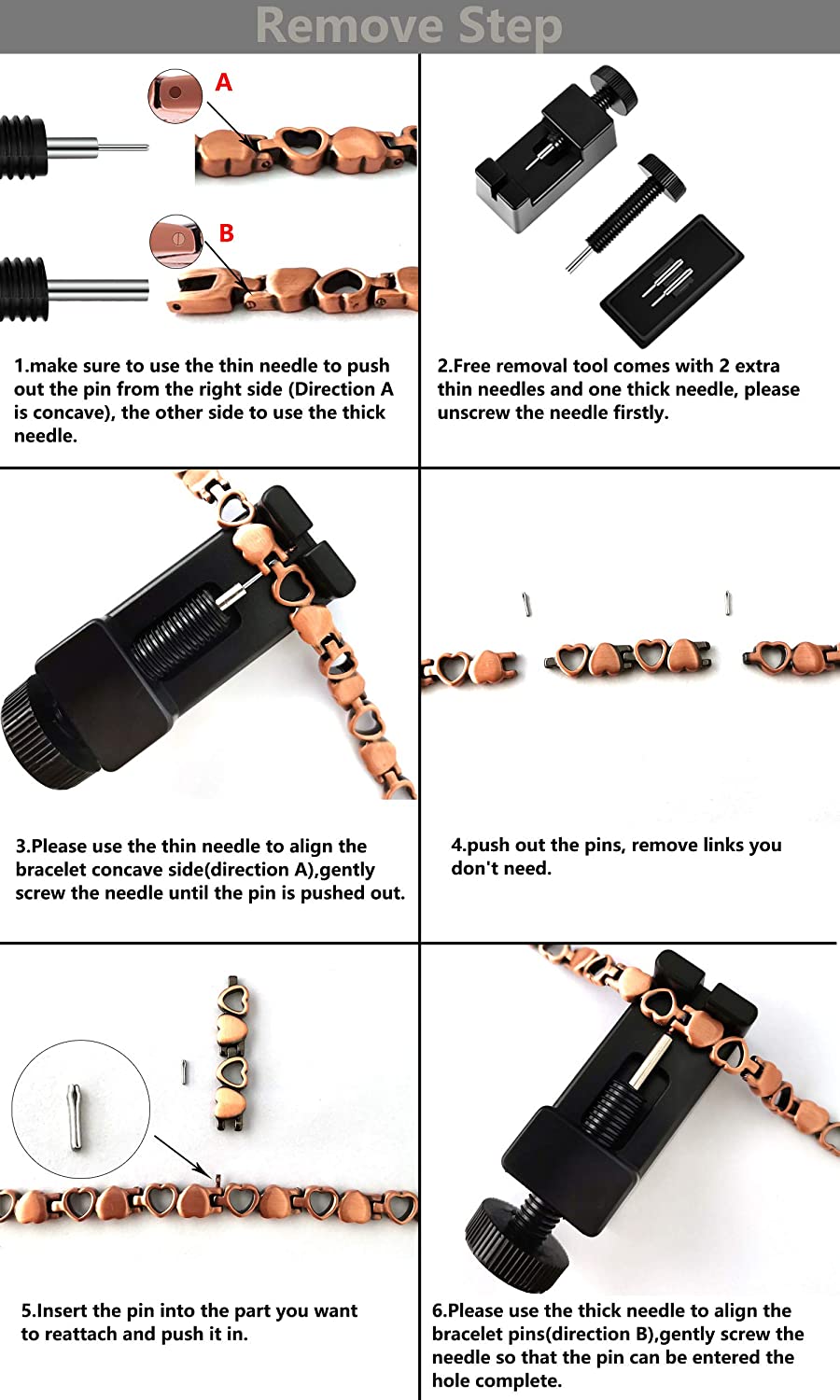 -About Viennais-
Viennais was founded in 1996a top 5 Jewelry Brand in Hongkong with the distinctive jewelry design that in 10 years has made the exception journey from Hongkong to world-leading international jewelry company.Viennais is relentless in efforts of becoming an iconic brand. We have the rich experience in Making the creative jewelry for our customers.

-SHIPPING RETURNS & SERVICE-
Free Delivery for all products. Processing Time : 1-5 Working Days.Estimated Arrival : 7-20 Working Days.We have a 30-day return policy. For more details seeShipping & Returns. Any questions or helps pls email service@viennais.com or message us.